Create royalty-free music that elevates your story
Beatoven.ai makes it easy for content creators to generate background music with the help of AI
Start Creating for Free
CALM AMBIENT MUSIC
Meditation
---
RELAXING AMBIENT MUSIC
Focus
---
INSPIRATIONAL CINEMATIC MUSIC
Epic
---
CHEERFUL HIP HOP MUSIC
Upbeat
---
RELAXING ELECTRONIC MUSIC
Lo-Fi
---
DREAMY WORLD MUSIC
Ambient
---
How it works
Compose unique music for your content in a few easy steps
1. Pick a Genre/Style
Upload a video/podcast or start with a track, choose from 8 different Genres to suit your theme.
2. Make some cuts
We know that the mood of the content changes over time. That's why you can make multiple cuts to add different moods.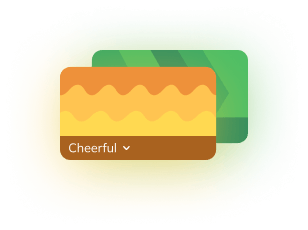 3. Change Mood
Now, choose from a rich selection of 16 moods to choose the correct mood for the cuts.
4. Compose
Hit compose and let our AI do all the hard work of composing a unique track for you.
Use cases
Great for a variety of video and podcast creators
Find the tune that carries your story
Create unique royalty-free music that matches the various moods of your content.
Start Creating For Free
Testimonials
See what our happy users are saying.
"It's a great product, we would love to keep using beatoven.ai and help the team make it the best music tech product in any way that we can."
Ashish Dhakre
Youtuber, LearnAur
"It's a really fun product, I've always been curious how an AI would compose music and finally, it's a reality through Beatoven.ai"

"This is an exciting interface and a very ambitious product."
Devansh Doshi
Ad Agency Owner

"Biggest advantage is Indian tracks."
Krishna Devate
CEO Hustler & Monk Productions
FAQS
Got a question? we are here to answer.
---
What are the licensing terms for the music?
The users will be granted a perpetual license for usage of the soundtracks on their choice of use case. All copyrights for the musical works created on Beatoven belong to the company.
---
Do I always need to upload a video?
---
Can I use this music for social media?
---
Can I use this music for advertisements?
---
Do I have to pay any royalties for the music?
---
What is the maximum duration of a track that this tool can support?
---
What happens when I hit compose?
---
Does Beatoven use the details in the video?
---
Can this tool support if I have a voiceover in my video?
---
Unique music
Our AI combines advanced music theory and production concepts to deliver unique music.
Unlimited Customization
Customize the length, genre, mood and instruments to create your music tracks.
Streamlined Output
Production-ready music with industry standard mixing and mastering.
---
Beatoven.ai utilizes advanced AI music generation techniques to create mood-based music tailored to complement your content. Ideal for video, podcast, and game creators.
© Copyright 2023 Beatoven Private Limited. All rights reserved.